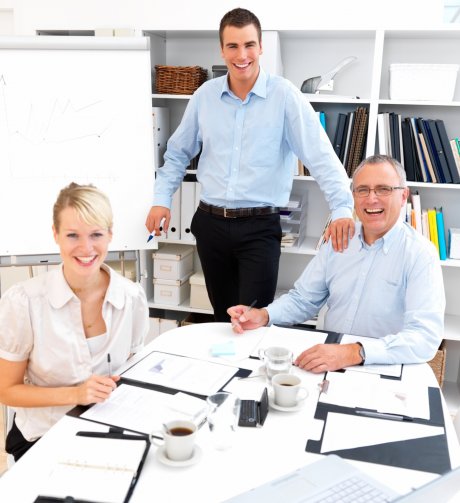 Workshops
Delivering workshops that are in effect, "group consulting" is something that we are very proud of. Zumo Retail workshops educate a lot of people quickly and at a lower cost per person. Our workshops are different, they aren't just training. Zumo Retail workshops have a different dynamic – often allowing an entire group to change paradigms. An example of changing the paradigm is success we experience with our flagship workshop, the Retail Ready Program©. The program is focused on creating a better store experience by improving the presentation of stores. Often attended by experienced staff who "have seen it all", they leave wanting to make the changes. And they do.
All of our workshops are presented by highly qualified and very experienced consultants. We only employ senior consultants and pride ourselves on the fact that they can answer almost any question related to the subject matter. They take the time to explain any issue in detail. Often the workshops are illustrated with real life examples and anecdotes to make the workshop more memorable. Experience tells us that it is these anecdotes that make attendees learn and retain the salient points, not just a folder full of paper you often get from other workshops.
We are famed for workshops that are interactive, fun, educational, motivational and highly effective. Every workshop requires input from the attendees.
Workshops we offer:
Retail Ready Program©
The Retail Ready Program© (RRP) is a 2 day workshop of which we are especially proud. Delivered in Australia, New Zealand, Asia, USA and Europe, it is the benchmark program for delivering excellence in store execution. It is highly interactive and attendees are challenged to think 'outside the square'. We take attendees "outside" the store and educate them to look at the store the way a customer does. The workshop includes classroom time and at least four store visits. The workshop has been specifically tailored for store owners, managers and senior store staff. Attendees learn about stock control and stock measurement. We provide a system for consistently executing the store, immediately improving the store experience for customers. By the end of the workshop staff will see what's wrong with their own store, know how to fix and most importantly, they'll want to fix it. The program is fun and works brilliantly. It is designed to ensure that a store is always 'ready' for customers.
Client feedback indicates that stores new to the Retail Ready Program© typically have sales increases of between 5 – 20% in sales. It all depends on the starting point of course, but the average store increases sales by 8%. Understandably, the ROI is very strong as a result.
Consider this - a major Australian client with more than 500 stores has recorded the following results over the last four years of running RRP workshops:
The average level of satisfaction was 95.8%
Most common feedback is that all staff should attend.
Typical comments are 'this is the best course I have attended'.
The workshop is a success because it has been proven to:
Make retailers more money – quickly.
Dramatically increase compliance to brand and promotional standards.
Show retailers how to better control working capital (stock) in the store.
Motivate staff
Provide a sustainable, practical, measurable way to improve store performance.
Deliver a rapid payback on your investment.
Integrate with the www.zumoaudits.com web site
To enquire about the Retail Ready Program© please Contact Us.
Advanced Retail Ready Program
This 1 day course is a follow on to the 2 day Retail Ready Program©. Attendance at the 2 day course is a pre-requisite to attend this more advanced workshop. The nature of retail is that it is dynamic and things change rapidly. The 2 day course contains a lot of information and often requires significant attitude adjustment from attendees. As a result the first part of the 1 day course summarizes the key points of the 2 day course to establish a foundation for the rest of the day.
The Advanced Retail Ready Program is designed to reinvigorate staff and owners; allowing them to find ways to drive sales.
This workshop has a morning classroom session, followed by a mid-morning store visit. Attendees conduct a thorough analysis of the store we visit including a least 6 action points or ways developing the business. The action points are shared with the rest of the group. We typically find that all attendees can take back at least 2 or 3 different ideas to implement immediately into their businesses.
There is also a focus on driving the metric of space. The course explains the cascade down from Sales/m2 to GMROS and NMROS along with the influence that staff can have on these numbers.
GMROII is extended beyond the learning points of the 2 Day Retail Ready Program to enable even better stock management.
The Advanced Retail Ready Program is recognized for:
Reinforcing the retail business skills already learned and driving store standards.
Reinforcing brand and promotional standards.
Encouraging problem solving within established brand parameters.
Focusing on the detail (detailed use of our checklist), and making sure high standards are maintained.
Understanding space management including the importance of GP$/m2 and GMROS.
Managing stock and how to drive GMROII and GP$/m2.
Motivating and reinvigorate staff.
Driving sales.
Deeper use of the www.zumoaudits.com website.
Already proven in numerous channels and markets, this is an excellent extension to the already proven 2 day Retail Ready Program© workshop.
To enquire about the Advanced Retail Ready Program© please Contact Us.
Business Planning
Understanding how well is your business doing is important, but knowing where you are going to is equally, if not more, important. Knowing where you want to go and how you are going to get there are big questions that are best answered by having a Business Plan. Interestingly, Zumo Retail business plans also seek to discover what is holding your business back – sometimes it's you and this confronting!
Without a plan you are guessing or hoping things work out ok. Research from one of the big four global accounting firms shows that the vast majority of independently owned retail businesses without business plans face failure.
Some retailers will argue that in a dynamic environment you must be nimble. We agree, but that doesn't abrogate you from the need to have a plan. A business still needs to have the appropriate infrastructure to enable you be nimble and you still need to achieve certain goals. We understand all that. A plan helps you achieve your goals. We have a Business Planning Process that has a significant benefit over most Business Plans and is simply that they get used. You don't have a choice because we have a face to face follow up session 6 months after the original plan where you have to explain your progress, or not. We'll give you advice and guidance on how to try to achieve your goals. At the end of the 12 month process, you again discuss with us how much you have done. Arguably it is confronting, but it is effective.
Our business planning process includes everything you would normally expect and we also consider our 12 key retail metrics and then look at where you should be. This process is for business owners, retail chains and functional heads of larger retail businesses.
Specifically, what results can I expect from this process?
It is Business Planning made easy. There are two choices; join one of our Business Planning workshops (2 days), or we'll come and see you if you're too busy to come to a workshop. You can expect to:
Know where you are going now – you can maximize the value
A documented plan you can use from when you walk out of the session!
Payback on the investment is typically 3-4 months
This process is designed to help you achieve your business goals, but be warned, it can be confronting. In keeping with our mantra, we try to leverage existing assets and infrastructure first. We also seek to make the customer experience better.
To enquire about Business Planning please Contact Us.
Retail Maths
This course is designed specifically for retailers seeking more knowledge on how to drive their business forward using intelligent business metrics. This workshop aims to help improve the operational aspects of a retail business, justifying changes with metrics. It is worth noting that this course is focused on retail math's not financial math's (balance sheets, P & L, NPV's etc.). The focus of this course is on understanding what the metrics are AND how to improve them. As part of this course, you will get an excellent introduction to the www.zumocalculators.com website and attendees to see "behind" the numbers.
The imperative to gain a deep understanding of business metrics continues to grow. As an example, we are aware of some retailers facing reducing $ margins and confusingly increasing % margins. How do you change it? Is it a good or a bad thing? Understanding these conundrums is something that we can explain and pass the knowledge onto our clients. Our workshop style allows us to delve into the issues facing retailers today.
We understand that different retailers use a core series of metrics – we ensure retailers understand each of those thoroughly. As an example – even two basic equations such as Mark Up% and GP% are often not easily explained by many in retail. We make sure the foundation is strong and correctly understood before we launch into deeper discussion.
Topics we cover include Space Management, Stock Management, Labour Management including measuring Wages/FTE etc., some basic investment and valuation calculations and understanding suppliers/vendor deals are appropriate.
It isn't just the understanding of these calculations attendees learn, it is how to improve the business. That's what makes this course so valuable and sort after.
Retail Math is recognized for:
Making math easy.
Improving use of business metrics.
Driving store standards.
Reinforcing brand and promotional standards.
Encouraging problem solving within established brand parameters.
Driving GP$/m2
Greater understanding of the www.zumocalculators.com website.
This workshop is a key enabler in growing the understanding of all retail staff.
To enquire about the Retail Math Program please Contact Us.
Retail Program Masterclass
This six day workshop is the premier workshop we offer. The 6 days are offered as either three workshops of 2 days each, or six workshops of one day each. This all-encompassing workshop is designed for Retail Owners, Retail Managers and BDM/KAM's. The workshop covers all aspects of retail operations. It clearly explains how to retailers work from the head office right to store level and each of the different elements along the way. Most workshops have either a store visit or role plays to demonstrate the learning's in a practical way. This workshop includes extensive notes, spread sheets, templates and web tools. Topics covered include:
Category Management
Stock Management
Effective negotiation with suppliers
Managing Space and Store Layout
Merchandising the store.
Store and labour management
Managing and developing range
Pricing for volume and profit
Promotions
Monitoring and measuring
Many attendees have increased their supplier income so much that the course has been paid for in just a few weeks. The anticipated payback on the investment is 12 weeks. Typical feedback is "I know now how to make my business work!"
The Retail Masterclass will help you and your business because:
It leverages existing assets.
Your knowledge of the mechanics of retail is greatly enhanced
You increase income.
Customers will see the difference in the store.
It delivers a rapid payback on your investment.
To enquire about the Retail Masterclass please Contact Us.